I was hoping I wouldn't have to write a newsletter on this latest outbreak of Ebola. The mainstream press was doing a pretty good job of reporting the facts and avoiding sensationalism. Any hysteria about Ebola was actually coming from a small number of alternative health websites. Unfortunately, things have changed. Much of the mainstream media has begun to abandon calmness and reason and decided, yet again, that there are better ratings to be found in scaring the bejeebers out of you. And as for that handful of alternative health websites that jumped on the Ebola outbreak when it first hit, well, they've decided to take their hysteria to apocalyptic levels. (We'll talk more about that in a bit.)
For those of you looking to cut to the chase and walk away with a quick sound bite, here it is. There's no reason for hysteria. The current outbreak of Ebola is highly unlikely to ever become a worldwide pandemic. If you live outside of Africa, and are not planning to visit an affected area in the near future, your chances of dying from Ebola are as close to zero as you can get–without actually being zero. You should be far more concerned about dying from lightning strikes (about 73 a year in the US), traffic accidents (about 33,000 fatalities a year), gun shots (30,000), and alcohol abuse (100,000). To put that in perspective: the number of people who have died from Ebola contracted outside of Africa, in the entire history of mankind is zero. To date, no case of Ebola in humans has ever been contracted in the United States. Note: in 1989, there was an outbreak in Reston Virginia, but that was not among people. Research monkeys that were brought to Reston had the disease. They got sick and died. None of the people who worked with the monkeys so much as got sick, let alone died.
So again, those of you looking for the short and sweet on this current Ebola outbreak: that was it. On the other hand, the details behind that sound bite are not only interesting, but highly informative–and lead to some significant conclusions.
History of Ebola
Ebola hemorrhagic fever is caused by the Ebola virus.  The first recognized outbreak was in 1976 at a mission hospital in Zaire, located near the Ebola river–from whence it got its name. There are actually four subtypes of Ebola–and a number of strains within each subtype. Three of the four subtypes (Ebola-Zaire, Ebola-Sudan, and Ebola-Ivory Coast) are known to infect humans. The fourth (Ebola-Reston, which we mentioned earlier) only seems to infect nonhuman primates. To date, the original Zaire version of the virus–which is the one involved in the current outbreak–is the most lethal. Some strains of the Zaire subtype can reach mortality rates approaching 90%. The current version is currently running at 50-60%.
Ebola is a filovirus (named after their characteristic long filament like shape) that wreaks havoc by damaging the endothelial cells that line all the arterial walls, including the capillaries, and by interfering with your blood's clotting ability. It is this one-two punch that makes it so deadly. As a result of the damage to the arterial walls, it causes internal bleeding in all your organs, and by interfering with the ability of your blood to clot, it means that you literally bleed to death internally. This can manifest in two ways: you either ultimately succumb to hypovolemic shock when there is insufficient blood for the heart to pump effectively, or you may end up drowning in your own blood as blood pours into your lungs. Neither is pleasant.
Fortunately, Ebola does not easily transmit from person to person. It doesn't readily pass through the air. This is not the movie Outbreak. Ebola requires direct contact with contaminated bodily fluids–i.e., blood, vomit, urine, saliva, and fecal matter. And although they contain droplets of saliva, coughing and sneezing do not qualify as direct contact. Ebola cannot pass between primates in an aerosol.1 Tara C. Smith. "Are we *sure* Ebola isn't airborne?" ScienceBlogs, Aetiology. August 3, 2014. (Accessed 11 Aug 2014. http://scienceblogs.com/aetiology/2014/08/03/are-we-sure-ebola-isnt-airborne/ , 2 Niagara Guide Guy. "Is Ebola Airborne?" Airborne Infection Prevention. September 12, 2007. (Accessed 11 Aug 2014) http://airborneinfection.blogspot.com/2007/09/is-ebola-airborne.html You can't catch Ebola by sitting next to someone with the virus in a movie theater. A quick search on the internet shows you how big a concern this is right now. I found blogs where people are calculating the "infection zone" around someone who has Ebola and sneezes on a plane. (Six feet is the common estimate by the way.) The logic is that saliva is a bodily fluid; therefore, the virus has to be carried in the water droplets of a sneeze or a cough. Right?
Wrong, actually. Yes, cold and flu viruses are transmitted through sneezes, but not all viruses can infect that way. Would you like an example of another deadly virus that's transmitted through direct contact with bodily fluids but that can't be transmitted in aerosol form? How about HIV? No one ever got infected by sitting next to an HIV carrier on an airplane—even if they sneezed repeatedly. HIV infection requires direct contact with bodily fluids—as does Ebola. Neither can transmit as an aerosol.
Incidentally, the consensus is that the current outbreak started as a result of natives eating infected bush meat — specifically, wild animals, hoofed animals, monkeys, fruit bats, and rodents. That kind of extended contact with multiple body fluids associated with the infected animal while killing, handling, cooking, and consuming them, pretty much guarantees the transmission of the infection. Once infected, the patient shows the first symptoms of the disease in anywhere from three to 14 days.
Because Ebola cannot transmit easily and because it has such a high mortality rate, the virus tends to lack staying power. Outbreaks of the disease tend to be both sporadic and isolated–quickly killing those infected and then dying off themselves. For example, when Ebola hit Uganda in 2012, the president quickly went on TV and urged Ugandans to avoid touching each other. Health officials acted responsibly, quickly quarantining anyone suspected of being infected. And the population cooperated. As a result, the outbreak was snuffed out in short order, and only 17 people died.
As a virus, antibiotics do not work on Ebola, nor do any known antivirals, nor is there an immunization that can be taken to prevent infection. At present, there is no proven cure, although an experimental drug used on the two Americans who contracted the disease has been in the news.3 BDr. Sanjay Gupta and Danielle Dellorto. "Experimental drug likely saved Ebola patients." CNN August 5, 2014. (Accessed 8 Aug 2014.) http://www.cnn.com/2014/08/04/health/experimental-ebola-serum/index.html Both patients are improving, and the company's stock is up 45%,4 Jack Linshi. "A Company That Makes an Ebola Drug Just Saw Its Stock Surge." Time Aug. 8, 2014. (8 Aug 2014.) http://time.com/3093726/tekmira-ebola-drug-maker-stock/ but in truth, there's no way to tell whether or not the drug played any role in their improvement. For the most part, all medical staff can do is make patients as comfortable as possible, keep them hydrated (very important), use antibiotics to control any secondary infections, prevent others from being infected, and let it run its course.
Why Is this Outbreak of Ebola Different?
West Africa is currently in the midst of the largest Ebola outbreak in history. Nearly 1,000 people have died and more than 1,700 have been infected since the outbreak began in early December. The death toll is already nearly four times as high as the next highest outbreak on record, which was the first outbreak back in 1976. There have been a total of 18 outbreaks since then.
As it turns out, the high death toll of this latest outbreak has nothing to do with any changes in the virus itself. In fact, as we've already mentioned, it's a slightly less fatal version of the Zaire subtype. What is different, though, is how the outbreak has been handled. Whereas two years ago, the virus was quickly identified and both the Ugandan government and healthcare services acted decisively and professionally–and the people followed the rules–the same cannot be said this time around. The reasons for this are multiple.
When the virus first appeared some five months ago in the forests of southern Guinea, no one knew what the fevers, body aches, diarrhea, and vomiting meant. Even when the symptoms extended to internal and external bleeding, no one connected the dots. And even when people started dying, relatives touched and washed the dead, unaware that cleaning up vomit and diarrhea and handling soiled clothing is precisely how the virus spreads through contact with bodily fluids.
Eventually, even though they still didn't know what it was, families became desperate and packed their loved ones into minivans or crowded buses to take them to Conakry, Guinea's capital, in search of better care. Still, no one yet knew what they were dealing with, and with sanitation and isolation facilities non-existent in the vehicles and in the city itself, many people were exposed to infected bodily fluids. Not surprisingly, people in Conakry started getting sick. It was not until the end of March that the disease had been identified as Ebola and Doctors Without Borders announced that Guinea faced an "unprecedented epidemic." Quite simply, because it had not been quickly identified, this outbreak had four months to spread to other villages, cities, and even cross borders before anyone knew what they were dealing with.
In early April, fear was sweeping through not only Guinea but neighboring Liberia, where deaths had also started occurring. When one lady fell ill in Liberia, she was taken to a church for divine intervention rather than to the hospital. Needless to say, she soon died. How many people caught the virus from touching her and ministering to her in church is impossible to say. Soon, though, what was originally denial turned to fear and panic.5 http://www.cnn.com/video/data/2.0/video/bestoftv/2014/07/31/lead-intv-liberian-pres-sirleaf-on-ebola.cnn.html  In Guinea, passengers fled a bus after an elderly man vomited on board.
When Ebola hit Uganda two years ago, it was the third outbreak in a dozen years in that country. The first outbreak in 2000 killed more than 220 people in about five months, largely as result of the same sort of official misjudgments and local ignorance currently seen in the West Africa outbreak. Based on their previous experience, the Ugandan government recognized the problem and acted quickly. And also because they too had previous experience with Ebola, the people followed the government's directives–even going so far as to forgo burying their dead according to traditional customs, but instead treating the dead as victims of Ebola.
Unfortunately, with this latest outbreak, the countries had no such previous experience with Ebola and were taken by surprise. Health officials were slow to respond; health workers weren't familiar with the necessary equipment; and health infrastructure was lacking. Also, the general public did not understand what was going on, and at least some infected patients did not follow necessary measures to contain the outbreak and seek medical care. Among other things, they were motivated by a distrust of Western medicine. Driven by rumors and fear, they fled hospitals rather than seek out treatment centers.6 "Ebola outbreak: Sierra Leone woman who fled hospital after testing positive dies." ABC 27 Jul 2014. (Accessed 10 Aug 2014.) http://www.abc.net.au/news/2014-07-27/ebola-patient-who-fled-hospital-dies-after-turning-herself-in/5626782 And even as recently as August 10th, long after the outbreak had been identified as Ebola and the public was made aware of what that meant, people in Sierra Leone and Liberia still chose to fill churches to seek deliverance from an outbreak–in total defiance of official warnings to avoid public gatherings to contain the epidemic.7 Clair MacDougall and Umaru Fofana. "West Africans fill churches to pray for deliverance from 'devil' Ebola." Reuters. Aug 10, 2014. (Accessed 10 Aug 2014.) http://www.reuters.com/article/2014/08/10/us-health-ebola-africa-idUSKBN0GA0QS20140810 Unfortunately, this is one of the primary reasons health experts expect this particular outbreak to continue for several more months, rather than be snuffed out quickly.
Another game changer is that previous outbreaks happened outside the cities, in remote communities. The West Africa outbreak has escalated because it moved into the cities where it spread much more rapidly before it was identified.
What we're seeing now is the perfect Ebola storm: ignorance, lack of faith in government and public health authorities, dysfunctional governments, poor isolation practices in health facilities, no accommodation of the families of those infected so that families refuse to bring their loved ones to facilities, rapid spread in a city environment, and–most disturbing of all–proximity to an international airport.
While the 2012 outbreak in Uganda was effectively contained within weeks, the West African outbreak is now in its ninth month and has killed nearly 1,000 people in Guinea, Liberia, Sierra Leone and Nigeria. In the history of Ebola outbreaks, nothing has come close to this in magnitude. Today, as I write this, The World Health Organization, has declared this outbreak to be an international public health emergency that requires an extraordinary response to stop its spread.8 "WHO Statement on the Meeting of the International Health Regulations Emergency Committee Regarding the 2014 Ebola Outbreak in West Africa." WHO 8 Aug 2014. (Accessed 8 Aug 2014.) http://www.who.int/mediacentre/news/statements/2014/ebola-20140808/en/
Now, I know this sounds dramatic–and it is–especially when you consider this is only the third time in its history that the WHO has declared an international public health emergency. Specifically, their statement declared, "The possible consequences of further international spread are particularly serious in view of the virulence of the virus, the intensive community and health facility transmission patterns, and the weak health systems in the currently affected and most at-risk countries." But as you dig down into the details of their announcement, it's a little less frightening than it might first appear. In addition to officially designating Ebola a global health emergency, the WHO published a list of recommendations for governments in affected countries. For the most part, the organization called for temporary bans on "mass gatherings" and exit screenings at airports to check people leaving countries hit by the virus. That's it. Not so dramatic after all–yet. One thing left unsaid sits in the background. The WHO's Public "health emergency of international concern" designation for Ebola could pave the way, depending on how well the affected countries get their acts together, for an international response that potentially includes the mobilization of NATO troops.
Ebola, Where We Stand
Make no mistake, this outbreak is a threat–but more so for people in Africa than for anyone in the developed world. Yes, the CDC stated yesterday that, thanks to global airline travel, it was "inevitable" that Ebola would spread worldwide. They even stated that it was "possible" that it could spread to the US. To quote Tom Frieden, the head of the CDC, "It is certainly possible that we could have ill people in the US who develop Ebola after having been exposed elsewhere. But we are confident that there will not be a large Ebola outbreak in the US." This, of course, is miles away from the deliberate misquoting in some of the headlines we're seeing in alternative health blogs such as: CDC bombshell: Ebola spread to USA 'inevitable'.9 Mike Adams. "DC bombshell: Ebola spread to USA 'inevitable'." Natural News. August 08, 2014. Accessed 8 Aug 2014.) http://www.naturalnews.com/046378_CDC_Ebola_pandemic_survival_tips.html There are three main differences between Africa and the developed world when it comes to the likelihood of a large scale outbreak of Ebola. One is better training for dealing with highly infectious diseases. Just look at Uganda to see how much that matters. Unfortunately, most of the countries in West Africa are not that well prepared. Second is superior healthcare infrastructure and technology. This allows developed countries to more effectively identify anyone who has had contact with a carrier and speedily track them down for testing and possible quarantine. And finally, there is culture. Eating bush meat is a survival necessity for many African villagers. Wild jungle animals serve as the reservoir for Ebola. Without them, Ebola would have disappeared off the face of the earth after the first outbreak was contained in 1976. There are no animal reservoirs outside of Africa, and even if there were, eating bush meat is much less common outside of Africa. (Note: I wouldn't be surprised to see sales of Miss Kay's Duck Dynasty cookbook, which specializes in wild animal recipes, drop off a bit after people read this. Just saying.)
Is there any danger bringing the two infected healthcare workers back to the US for isolation and treatment? Despite the furor this has created in some segments of the media and among some politicians, the danger is about as close to zero as you can get. Again, you don't get Ebola from casual contact or "being in the area." It takes direct contact with infected bodily fluids. This just ain't gonna happen in these cases. They were brought back in special planes, outfitted with portable isolation units, and will be kept in true isolation in a fully equipped isolation unit at Emory Hospital complete with glass walls for observation and filtered air.10 Emory University Hospital special isolation unit treats two Americans infected with Ebola virus." Emory News Center. 4 Aug 2014. !Accessed 8 Aug 2014.) http://news.emory.edu/stories/2014/07/euh_ebola_patient/campus.html The chances of it breaking containment are almost nonexistent.
Donald Trump, in a series of three tweets that gained international attention, proclaimed:
The U.S. cannot allow EBOLA infected people back. People that go to far away places to help out are great-but must suffer the consequences!
The U.S. must immediately stop all flights from EBOLA infected countries or the plague will start and spread inside our "borders." Act fast!
The fact that we are taking the Ebola patients, while others from the area are fleeing to the United States, is absolutely CRAZY-Stupid pols
This is pure nonsense, has no basis in fact, and displays a complete ignorance of the medical science involved. It is political grandstanding of the basest sort. Then again, would we have expected anything less from "The Donald."11 Ed Mazza. "Dnald Trump Says Ebola Doctors 'Must Suffer The Consequences'." The Huffington Post  08/04/2014. (Accessed 8 Aug 2014.) http://www.huffingtonpost.com/2014/08/03/donald-trump-ebola-doctors_n_5646424.html
Over the years, I've told you that at some point, a major devastating pandemic is coming. But I have also consistently told you each time the mainstream media has gone hysterical that it wasn't SARS, Bird Flu, Swine Flu, or MERS. And so far, I've been right. And I'm telling you now that, unless something changes, it's not Ebola either. Ebola's dependence on direct contact with bodily fluids for transmission make it impossible for it to ever become the next 1918 pandemic. So who are you going to listen to when it comes to Ebola: the person who got everyone of those previous calls right, or the people who got everyone of them wrong? And when are you going to start holding the people who are just trying to scare the fecal matter out of you accountable for their bad journalism–and their bad science?
Ebola in the Developed World
So, is there a chance that Ebola will come to the Western World? As the head of the CDC said, that's inevitable. Someone who is infected will at some point fly out of Africa to a developed country. Will they come to the U.S.? He said that was possible; he did not say inevitable. And more importantly, he specifically talked about it being contracted overseas, not contracted domestically. He also stated that if it did arrive in the U.S. in this manner, it would not be a large outbreak. So what are the scenarios we're talking about?
Someone contracts Ebola while visiting Africa and develops symptoms while still overseas. In fact, we've already seen this scenario with the two healthcare workers in the U.S. and the priest flown back to Spain. Once identified, they are transported in isolation back home and held in isolation until they no longer pose a threat. This is not something to worry about.
Someone contracts Ebola while overseas and flies back home on a crowded airplane before they develop symptoms. This is the scenario that the CDC said was "possible". Is it a major concern? Well, before they develop symptoms, they are not contagious unless they are performing blood brother rituals with fellow passengers on the plane. Remember, it takes contact with infected blood, urine, fecal matter, saliva, or vomit to contract the disease. Having no symptoms means that you are not vomiting, do not have diarrhea, and are not bleeding from your eyes or nose. The chances of transmitting infection are close to zero. Once home if you develop symptoms, hospitals are now on high alert looking for anyone with those symptoms who has recently traveled to Africa. They will quickly put any such patient in isolation and quarantine their family until they test negative for infection. Bottom line: the chances of Ebola being passed to anyone outside of the immediate family is very low.
When the head of the CDC said that any possible outbreak would likely not be large, this is what he meant—a small handful of people in the immediate family would be at risk. Let's remember that Uganda held its last outbreak to 17 deaths. We would like to think that any Western country could meet or exceed that standard.
So, is there any scenario where Ebola could spread in a developed country? And the answer is yes. If, for example, the U.S. citizen who contracted the disease overseas and brought it back home was part of a group that distrusted his government and decided to resist health authority attempts to put him in isolation and decided to seal himself off in the family ranch and resist any incursion by Federal or state authorities to quarantine him and his family, that would present a problem. Then again, sealing yourself and your family in the family compound would accomplish much the same thing as quarantine, although it would likely mean that everyone on the compound died.  However, once everyone was dead, the authorities would move in wearing Hazmat suits and remove the bodies, thus ending the outbreak.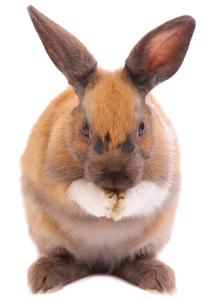 But Jon, is there any scenario where we could end up with regular large scale Ebola outbreaks like in Africa? And the answer to that question is: yes, it's possible. For that to happen, however, Ebola would have to find an animal reservoir that people had intimate contact with in which it could continue to thrive when there were no human carriers. In Africa, that's the bush meat. Villagers, by tradition, eat monkey meat and fruit bats. These are the reservoir in Africa. When villagers kill, skin, cook, and eat these animals, they have that close contact with bodily fluids required for transmission if even one of those animals is infected. So what about the U.S., is there a similar scenario?
Well, let's take a look at that compound standoff again. What if at the end of the standoff, when everyone on the ranch had died of Ebola, but before the authorities moved in to claim the bodies, some coyotes scavenged some of the flesh of the dead and become infected. Then a few days later, they attacked a rabbit but failed to kill it. And that rabbit then goes back to its warren where it develops symptoms and spreads the disease to all the other rabbits in the warren through its diarrhea, urine, vomit, and fecal matter. Then those rabbits spread out and are eventually hunted down by local human families that have recently purchased Miss Kay's Duck Dynasty cookbook and its recipes for wild rabbit, then you could have an ongoing larger outbreak. But as I said at the top of the newsletter, you have a better chance of hitting lotto than of seeing that scenario play out.
Ebola Recommendations
Again, remembering that you have a better chance of hitting a $300 million Powerball jackpot than coming down with Ebola, is there anything you can do to protect yourself in case you get that lucky? Well, at the moment, the medical community has little to offer except keeping you isolated and hydrated and dealing with any secondary infections–and possibly a couple of unproven, experimental drugs with unknown side effects that, even if they do work, would only be available for a lucky few, at least for the foreseeable future.
So, for better or worse, you're pretty much on your own with whatever alternative treatments might help. But keep in mind, since Ebola is so rare, these recommendations are no more proven than the experimental drugs now in the news. On the other hand, they have a whole lot more history behind them. With that said:
It appears that mortality rates are higher in those with compromised immune systems, so keeping your immune system at peak levels is an obvious starting point. And fortunately, unlike MERS, swine flu, bird flu, and SARS, Ebola does not trigger a cytokine storm. That means you don't have to worry about your immune system turning on you and destroying your lungs. With Ebola, the stronger your immune system, the better.
Keep a good supply of an antibacterial, antiviral formula that contains several natural pathogen destroyers on hand. Although such formulas and ingredients are not specifically proven for Ebola, there is science behind the general antiviral properties of a number of such ingredients. For example:
If you are worried about Ebola coming to your neighborhood–keeping in mind that there really are many other things that you should be far more worried about than Ebola–it's probably worth keeping a supply of a good anti-pathogenic formula in your medicine cabinet–enough for you and your family. Although not specifically tested for Ebola, every indication is that even if it can't eliminate the virus outright, it could at least reduce the viral load enough so that your immune system could do the job, allowing you to survive. In fact, in general, it's probably a good idea to keep a supply of such a formula on hand for dealing with colds, flu, MRSA, or any other pathogenic illness that might come your way.
Last Word
Let me finish by saying that no one has put Ebola fear mongering in better, and funnier, perspective than Stephen Colbert the other night. Enjoy.
References

↑

1
Tara C. Smith. "Are we *sure* Ebola isn't airborne?" ScienceBlogs, Aetiology. August 3, 2014. (Accessed 11 Aug 2014.

http://scienceblogs.com/aetiology/2014/08/03/are-we-sure-ebola-isnt-airborne/

↑

2
Niagara Guide Guy. "Is Ebola Airborne?" Airborne Infection Prevention. September 12, 2007. (Accessed 11 Aug 2014)

http://airborneinfection.blogspot.com/2007/09/is-ebola-airborne.html

↑

3
BDr. Sanjay Gupta and Danielle Dellorto. "Experimental drug likely saved Ebola patients." CNN August 5, 2014. (Accessed 8 Aug 2014.)

http://www.cnn.com/2014/08/04/health/experimental-ebola-serum/index.html

↑

4
Jack Linshi. "A Company That Makes an Ebola Drug Just Saw Its Stock Surge." Time Aug. 8, 2014. (8 Aug 2014.)

http://time.com/3093726/tekmira-ebola-drug-maker-stock/

↑

5

http://www.cnn.com/video/data/2.0/video/bestoftv/2014/07/31/lead-intv-liberian-pres-sirleaf-on-ebola.cnn.html

↑

6
"Ebola outbreak: Sierra Leone woman who fled hospital after testing positive dies." ABC 27 Jul 2014. (Accessed 10 Aug 2014.)

http://www.abc.net.au/news/2014-07-27/ebola-patient-who-fled-hospital-dies-after-turning-herself-in/5626782

↑

7
Clair MacDougall and Umaru Fofana. "West Africans fill churches to pray for deliverance from 'devil' Ebola." Reuters. Aug 10, 2014. (Accessed 10 Aug 2014.)

http://www.reuters.com/article/2014/08/10/us-health-ebola-africa-idUSKBN0GA0QS20140810

↑

8
"WHO Statement on the Meeting of the International Health Regulations Emergency Committee Regarding the 2014 Ebola Outbreak in West Africa." WHO 8 Aug 2014. (Accessed 8 Aug 2014.)

http://www.who.int/mediacentre/news/statements/2014/ebola-20140808/en/

↑

9
Mike Adams. "DC bombshell: Ebola spread to USA 'inevitable'." Natural News. August 08, 2014. Accessed 8 Aug 2014.)

http://www.naturalnews.com/046378_CDC_Ebola_pandemic_survival_tips.html

↑

10
Emory University Hospital special isolation unit treats two Americans infected with Ebola virus." Emory News Center. 4 Aug 2014. !Accessed 8 Aug 2014.)

http://news.emory.edu/stories/2014/07/euh_ebola_patient/campus.html

↑

11
Ed Mazza. "Dnald Trump Says Ebola Doctors 'Must Suffer The Consequences'." The Huffington Post  08/04/2014. (Accessed 8 Aug 2014.)

http://www.huffingtonpost.com/2014/08/03/donald-trump-ebola-doctors_n_5646424.html

↑

12
Kyung KH. "Antimicrobial properties of allium species."Curr Opin Biotechnol. 2012 Apr;23(2):142-7.

http://www.ncbi.nlm.nih.gov/pubmed/21903379

↑

13
Weber ND1, Andersen DO, North JA, Murray BK, Lawson LD, Hughes BG. "In vitro virucidal effects of Allium sativum (garlic) extract and compounds." Planta Med. 1992 Oct;58(5):417-23.

http://www.ncbi.nlm.nih.gov/pubmed/1470664

↑

14
Lee-Huang S1, Zhang L, Huang PL, Chang YT, Huang PL. "Anti-HIV activity of olive leaf extract (OLE) and modulation of host cell gene expression by HIV-1 infection and OLE treatment." Biochem Biophys Res Commun. 2003 Aug 8;307(4):1029-37.

http://www.ncbi.nlm.nih.gov/pubmed/12878215

↑

15
Micol V1, Caturla N, Pérez-Fons L, Más V, Pérez L, Estepa A. "The olive leaf extract exhibits antiviral activity against viral haemorrhagic septicaemia rhabdovirus (VHSV)."  Antiviral Res. 2005 Jun;66(2-3):129-36.

http://www.ncbi.nlm.nih.gov/pubmed/15869811

↑

16
Walker, Morton MD. Natures Antibiotic: Olive Leaf Extract, Kensington Books, NewYork, 1997. pps. 65-68, 39, 149. 

http://www.amazon.com/Olive-Leaf-Extract-Morton-Walker/dp/1575662264/ref=sr_1_1?ie=UTF8&qid=1407611192&sr=8-

↑

17
Gilling DH, Kitajima M, Torrey JR, Bright KR. "Antiviral efficacy and mechanisms of action of oregano essential oil and its primary component carvacrol against murine norovirus." J Appl Microbiol. 2014 May;116(5):1149-63.

http://www.ncbi.nlm.nih.gov/pubmed/24779581

↑

18
Korant BD, Kauer JC, Butterworth BE. "Zinc ions inhibit replication of rhinoviruses." Nature. 1974 Apr 12;248(449):588-90.

http://www.ncbi.nlm.nih.gov/pubmed/4363085